Come Join our Laid Back Brunches!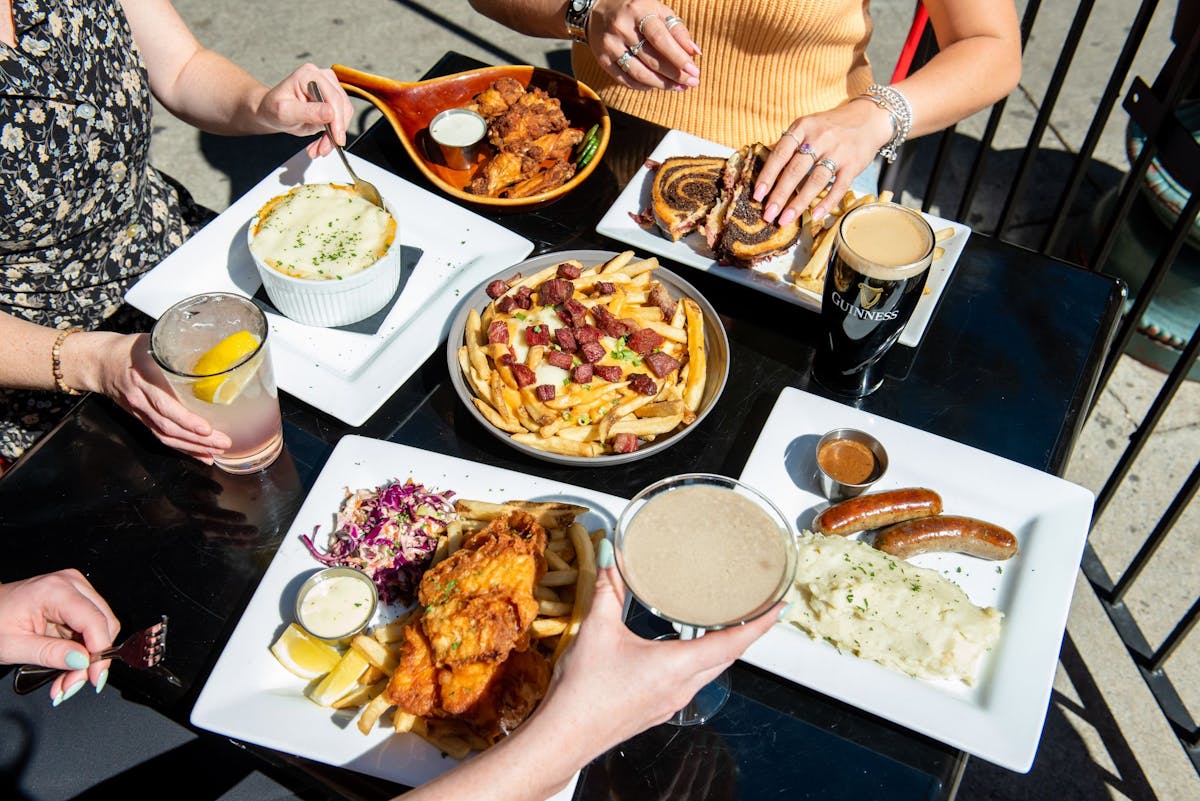 Did you know that the Lansdowne Pub offers Laid Back Brunch? Well, join us every Sunday for live music and brunch! What more could you want? Continue reading to learn more about this happening, our menu, and other happenings ongoing this month.
Classics
Yogurt Parfait
vanilla yogurt topped with fresh berries and homemade granola.
Irish Bangers And Eggs
grilled bangers.
Corned Beef Hash Scramble
house made corned beef hash, three eggs scrambled.
Benedicts
Served w/ Home Fries
Salmon Benedict
thin sliced smoked salmon, poached egg, english muffin, hollandaise. Served with home fries.
Corned Beef Benedict
house-made corned beef hash, two poached eggs, english muffin, hollandaise.
Eggs Benedict
Sliced Canadian Bacon, poached eggs, English Muffin, Hollandaise.
Morning Sweets
White Chocolate Crepes
cream cheese stuffing, mixed berries, and a chocolate drizzle.
Brioche French Toast
served with a seasonal fruit compote and whipped cream.
Chocolate Toffee French Toast
brioche french toast topped with white chocolate sauce and heath bar crumble.
Souffle Pancakes
Choice of plain or mixed berry pancakes, topped with a whipped honey butter and maple syrup.
Brunch Cocktails
House Made Bloody Mary
Mimosa
Bucket Of Bubbles
Bottle of Champagne with a carafe of Orange Juice.
Irish Coffee
Irish whiskey, Irish cream, and coffee.
Apps & Salads
Crispy Cheese Curds
Seasoned bread crumb-crusted fried cheddar + Irish honey mustard & HP mayo.
Everything Pretzel
Jumbo everything-topped soft pretzel + strong Irish mustard & cheddar ale sauce.
Chicken Wings
Choice of Whiskey BBQ, Honey Mustard or Chipotle Coconut served with a side of blue cheese.
Kale Caesar Salad
Kale/Romaine blend, Pub Caesar dressing, rye croutons, Dubliner cheese.
Irish Pub Salad
Mixed greens, cucumber, tomato, pickled shallot + balsamic vinaigrette.
Nachos
Choice of plain, chicken or beef. Comes with black beans, guacamole, cheese sauce and pico.
Sandwiches
choice of fries, rings, or house salad
Breakfast Sandwich
grilled bagel, fried egg, portobello, arugula, pesto.
Chicken Sandwich
Fried Chicken, irish bacon, arugula, mustard aioli, homemade pita bread.
Pub Burger
8oz patty, cheese, lettuce, tomato, dark & tan onion rings, Pub sauce, brioche potato bun.
Late Afternoon Desserts
Cheesecake
berry compote, whipped cream.
White Chocolate Bread Pudding
topped with whipped cream and chocolate sauce.
Other Happenings This Month
Between the plethora of live music happening at our venue, be sure to check out some fall festivities ongoing at the Lansdowne Pub! From October 24th - October 31st, there will be Nightly Pumpkin Painting. On October 28th, there will be a Halloween Costume Contest Held! Music will be performed at this event by The KR Show. Lastly, be sure to sign up for the 7th Annual Crawl-O-Ween. This event will take place on the Saturday before Halloween, you won't want to miss it!
Contact the Lansdowne Pub For More Information
To learn more about our laid back brunch, or other happenings ongoing for the month of October, please contact our team at the Lansdowne Pub today. To get in touch with us, please give us a call at (617) 247-1222. We look forward to hearing from you!